Explore the vibrant art scene with our guide to the best 10 museums in Los Angeles, featuring modern, contemporary, and classical art, as well as museums specifically designed for children. Here you have them all listed with directions how to get there:
Los Angeles Museum of Modern Art (LACMA)
The Los Angeles Museum of Modern Art, also called LACMA, is a perfect place to interact with art and architecture. Its iconic lamps at the main entrance are known worldwide. In its galleries you can find pieces of modern, contemporary and current trends art by artists such as Jay DeFeo, David Hockney, Ellsworth Kelly, René Magritte, Wifredo Lam, Claes Oldenburg, Ed Ruscha, Betye Saar, Kurt Schwitters, and Frank Stella.
Address: 5905 Wilshire Blvd, Los Angeles, CA 90036
Website: https://www.lacma.org/
Directions
Academy Museum of Motion Pictures
A few blocks from LACMA is the Museum of the Academy of Motion Pictures and Television, a site dedicated to the history, industry and impact of cinema in Los Angeles and the world. There you can find collections related to iconic movies, the history of technology that changed the way movies are produced and, of course, what is behind the Oscar statues. The museum opened in October 2021 and reservations must be made online to enter.
Address: 6067 Wilshire Blvd, Los Angeles, CA 90036
Website: https://www.academymuseum.org/en/
Directions
The Broad Museum
The Broad Museum houses nearly 2,000 works of art by 200 artists. It is named for the philanthropists Eli and Edythe Broad who financed its construction and provided one of the world's foremost collections of post-war and contemporary art. The Broad features immersive art exhibits that appeal to art and photography lovers. There you can find two of Yayoi Kusama's Infinity Mirror installations.
Address: 221 S Grand Ave, Los Angeles, CA 90012
Website: https://www.thebroad.org/
Directions
Museum of Contemporary Art Los Angeles MOCA
The Los Angeles Museum of Contemporary Art is located in downtown Los Angeles. The venue displays mostly American and European art from the contemporary period, created after the year 1940. The museum has both established and traveling exhibits.
Address: 250 south Grand Ave Los Angeles, CA 90012
Phone: 213/626-6222
Website: https://www.moca.org/
Directions
Getty Villa
The Getty Villa is a place dedicated to the arts and cultures of Ancient Greece, Rome and Etruria in the heart of Los Angeles. The mansion is a recreation of the summer villas of the Roman Empire, mainly the Villa of the Papyri in Herculaneum. The ancient gardens adorned with fountains and trees are an alternative for those who enjoy art and architecture.
Address: 17985 Pacific Coast Highway, Pacific Palisades, CA 90272
Website: https://www.getty.edu/visit/villa/
Directions
Getty Center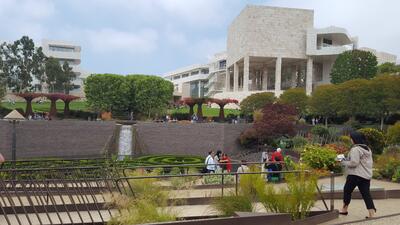 The Getty Center is a wonderful space to visit with the whole family. The art galleries have pieces from the Middle Ages to the most recent artists. In addition, the architecture, gardens and view of the city make this place a perfect space to spend time in the midst of art and nature. There you can find works by Peter Paul Rubens, Rembrandt van Rijn, Francisco Goya, Pierre-Auguste Renoir, Édouard Manet and Van Gogh, among others.
Address: 1200 Getty Center Drive, Los Angeles, CA 90049
Website: https://www.getty.edu/visit/center/
Directions
California Science Center
The California Science Center is a dynamic destination where families can explore science through interactive exhibits, innovative programs and multimedia. The exhibits are related to earth, space, science, the environment, the construction of ancient monuments and other topics that show human ingenuity.
Address: 700 Exposition Park Dr, Los Angeles, CA 90037
Website: https://californiasciencecenter.org/
Directions
Kidspace Children's Museum
The Kidspace Children's Museum is a space to give children the opportunity to expand their knowledge through unusual learning techniques. The place stimulates the curiosity of minors and inspires them to investigate topics related to science, technology and art through interactive experiences.
Address: 480 N Arroyo Blvd, Pasadena, CA 91103
Website: https://kidspacemuseum.org/
Directions
Natural History Museum
The Los Angeles County Natural History Museum is the largest of its kind in the western United States. Its galleries contain elements that cover 4.5 billion years. There you can find spaces dedicated to dinosaurs, the periods of evolution of the earth, animals, plants and more.
Address: 900 W Exposition Blvd, Los Angeles, CA 90007
Website: https://nhm.org/
Directions
Brea Tar Pits
The La Brea Tar Pits museum is dedicated to paleontology. Located in the Wilshire district, it celebrates Ice Age education with animal fossil exhibits that you can interact with outdoors and in its indoor galleries.
Address: 5801 Wilshire Blvd, Los Angeles, CA 90036
Website: https://tarpits.org/
Directions
In brief, L.A. is a hub of diverse and impressive museums, showcasing unique collections and programs for visitors. Our guide to the best 10 museums in Los Angeles from The Getty Center to The Broad, can help you plan your next cultural excursion in LA.