In a vast city like Los Angeles, the choice of where to stay can greatly influence your experience of the city. Whether it's a renowned hotel in the bustling heart of Hollywood or a serene property with ocean views in Santa Monica, these iconic hotels in the Los Angeles area are destinations in themselves.
Here you can discover the 10 best iconic hotels in Los Angeles.
Table of Contents
1. Pendry West Hollywood

Located in the vibrant center of West Hollywood, Pendry is conveniently situated across the street from The Comedy Shop, fantastic shopping, and top-notch dining establishments. The hotel offers 149 rooms, 40 residences, a rooftop pool, an exclusive private social club that rivals the charm of SoHo, a luxurious day spa, a bowling alley, and a variety of Wolfgang Puck dining options.
Tip: Consider booking one of the 37 suites, which showcase carefully curated art collections and boast extravagant contemporary furnishings in lively electric blues and golds.
2. Hotel Bel-Air, Dorchester Collection
When walking across the long pedestrian bridge that covers the Swan Lake of Bel-Air (yes, there are actual swans gliding by) as sparrows chirp among the palm trees and bougainvilleas, there is a sense of the entire sprawling metropolis melting away at the foothills of Santa Monica. Bel-Air has long been a sanctuary, a sanctuary of Mediterranean-inspired elegance reminiscent of Grace Kelly and Marilyn Monroe. Despite its old Hollywood credentials and sparkling fountains, Bel-Air is not a weathered treasure. A 2012 refurbishment by New York City-based designer Alexandra Champalimaud has given the place an incredibly deliberate shine, yet somehow fittingly mid-century. Rooms – all creams, peaches, and ochres in the hotel's Spanish Colonial design – now come with heated bathroom floors and personal balconies with hot tubs and fire pits. Wolfgang Puck, who has been associated with the hotel for over 30 years, continues to excel with the menu. A space overlooking the lake is the perfect setting for a 34-ounce porterhouse steak and a glass of bone-dry Henriot Champagne. My favorite area is the Bar and Lounge, where blown-up black-and-white photos of Tina Turner and Cher by professional rock-and-roll photographer Norman Seeff constantly remind me that even though you may be staying in the quietly glamorous Bel-Air area, you are still very much in L.A.
3. Shutters on the beach
 The oceanfront property, with its white shingled exterior, underwent a complete renovation in 2005, overseen by Michael S. Smith, the renowned interior designer known for decorating the Obama White House. The lobby has a cozy and welcoming atmosphere, complete with two spacious fireplaces. The hotel also boasts an impressive art collection, featuring works by acclaimed Modern artists such as David Hockney, Robert Motherwell, Claes Oldenburg, and Roy Lichtenstein.
This is the best place to ensure that serene holiday feeling .
Tip: Many rooms don't have a full ocean view, so make sure that when you book to secure the ones that make for the dreamed beach house experience.
4. The Beverly Hills Hotel, Dorchester Collection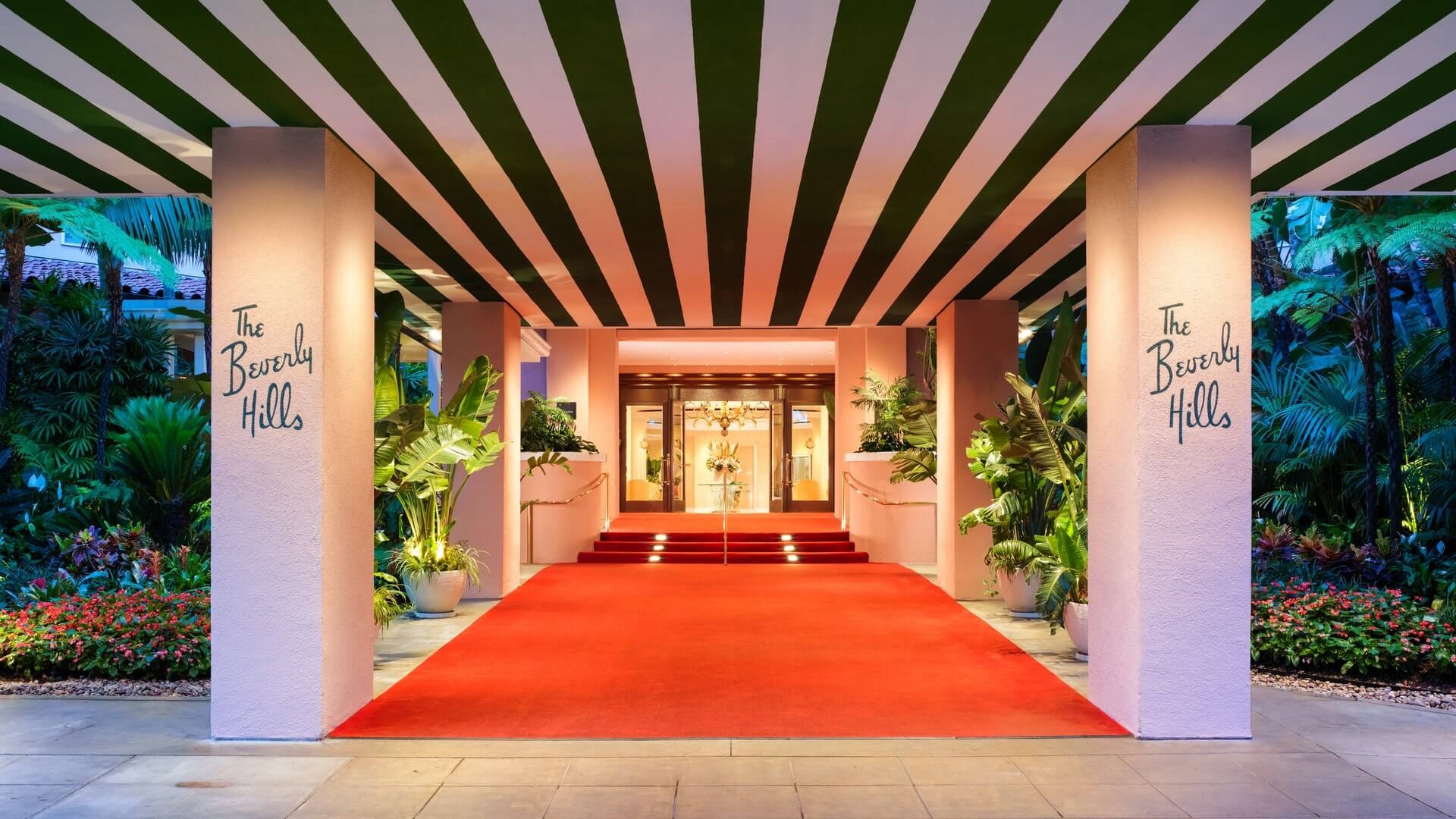 Even if you don't recognize it, you've seen this hotel before. The palm trees, pink walls, and lush gardens of the Beverly Hills Hotel are as much a part of Hollywood iconography as the sign itself. The location is the site of legends: British Royals, Beatles and Oscar winners have slept on its pillows, Elizabeth Taylor has had six of her 8 honeymoons here, and a restoration completed in 2015 has brought all that history as much as the date so that it could continue to be the gaming area that it has consistently been. Tip: Book your Polo Lounge reservation at the same time as you book your room.
5. Fairmont Miramar Hotel & Bungalows
The Fairmont Miramar is a traditional Santa Monica sign – as much of a garden hideaway as it is of a beach camp. Flowerbeds are covered in canvas sheets, while suites on the top floor have two balconies.. You will be delighted with an access to Miramar's unique beach club.
6. The West Hollywood EDITION
Los Angeles is known for its famous celebrities, but the hotels in Hollywood have lost some of their charm over time. However, there are a few new and stunning additions, and one worth mentioning is this particular spot.
The hotel has high ceilings, a stylish bar, an impressive art collection, and a large pool table, creating a lively and social atmosphere from the moment you enter. The renowned British architect, John Pawson, known for his minimalistic designs, teamed up with the detail-oriented genius Schrager to create 190 guest rooms and 50 suites. These rooms have spacious outdoor terraces, modern decorations, and luxurious touches that bring a calm and peaceful vibe, providing a contrast to the energetic scene below.
7. Beverly Wilshire, A Four Seasons Hotel
The Beverly Wilshire is like a grand and elegant European hotel right in LA, and their service is top-notch. It has been enjoyed by Elvis and the British Royal Family, and it stands out from the casual and minimalist lobbies found throughout the city. Guests love the views of Rodeo Drive and the Hollywood Hills, as well as the pool inspired by Sophia Loren's Tuscan rental property. And of course, in true LA fashion, there are great dining options available: The Blvd, a restaurant open all day, and CUT, Wolfgang Puck's Michelin-starred modern steakhouse designed by Richard Meier. If you're seeking traditional luxury, look no further than here.
8. Hotel Casa del Mar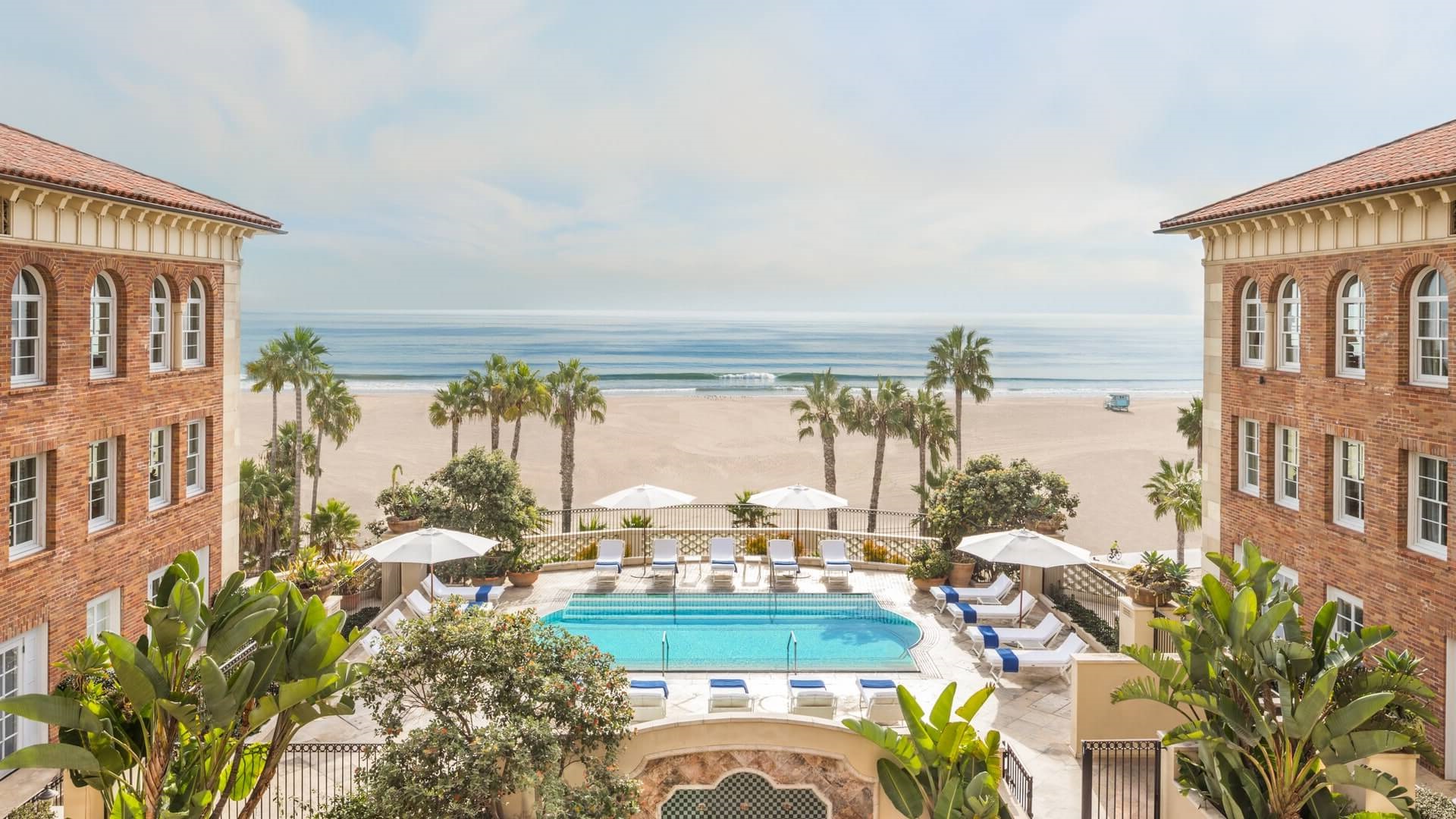 An Italian palazzo on a California beach, Casa del Mar is Santa Monica's other famous waterfront residential or commercial property along with Shutters. Rooms feel romantic yet residential, with personal patios and Italian linens fronting a tranquil interior courtyard. There will be large marble bathrooms with the most elegant amenities, then, when you're dressed for the night, there's live entertainment every night in the lounge. This place is surely worth it: for the views, the fairy-tale four-poster beds, and the warm light giving a soft ambient feeling.
9. Maybourne Beverly Hills
Located in the prestigious Golden Triangle of Beverly Hills, this hotel has a modern and airy Californian vibe, while still maintaining the high-end service that it is renowned for the world's most exclusive neighborhoods and hotel brands. It feels like Europe, but the presence of stylish dogs at Prada confirms that you are indeed in Beverly Hills. When you're not indulging in the luxurious accommodations, take advantage of the 20,000-square-foot health club.
10. Chateau Marmont
The public areas of this place have a romantic atmosphere, with wooden ceilings, cozy candle-lit tables in the corners, and beautiful tile floors. It has always been a favorite hideaway for famous Hollywood stars who appreciate the discreet and trustworthy staff, as well as the private entrances that ensure their privacy. People choose to stay here either because they desire the same VIP treatment, hope to catch a glimpse of celebrities, or simply want to experience a piece of Los Angeles' history. The accommodation options include various types of rooms, bungalows (located by the pool or on the hillside), garden cottages, and suites. The property was last renovated in the 1990s by Andrés Balazs, who added a contemporary touch while preserving its old-school charm.
Tip: It's recommended to skip the standard rooms and opt for the cottages and bungalows to truly enjoy the unique Chateau experience. The garden cottages are particularly delightful, with vibrant pops of color, full kitchens, dining areas, and private entrances from the street.
---